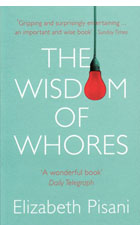 In
The Wisdom of Whores; Bureaucrats, Brothels and theBusiness of AIDS
, Elizabeth Pisani, takes an incisive look at the sex trade, HIV/AIDS prevention strategies and the operations of national and international non-governmental organizations.
Ms. Pisani, an epidemiologist who has worked with UNAIDS, the World Bank and other organizations and governments takes a no-holds barred approach to the issue.
What works?
What doesn't?
How can governments and multi-nationals spend their HIV/AIDS budgets more effectively?
As
Ms. Pisani
points out scare tactics don't always work.
Neither does ignorance.
African governments were slow to respond to the crisis, slow to get the information about the disease to their populations and slow to put reduction strategies such as the distribution of condoms into effect with the result that the virus transmission rate went through the roof.
With the exception of Senegal and Uganda, African societies made like or no effort to talk frankly about sex, about the risks of multiple partnering, about the need to use condoms, about the benefits of circumcision.
Sexual relations in Africa happens in nets – for example, a man may have two or three wives in his compound but also has a visiting relationship with other women.
By contrast, in Europe, relationships happen in 'strings' where a man will only have one partner at a time. These are some of the factors which have led to sub-Saharan Africa having the highest rate of HIV/AIDS in the world, followed by the Caribbean where similar factors, multiple partnering and an unwillingness to talk about sex, also obtain.
Ms. Pisani's focus is mostly on Asia, however, and she explores the facts and the myths behind the spread of the disease in such countries as Thailand and East Timor.
Abstinence only programmes, she points out, haven't worked in the States and don't work anywhere else.
What works are programmes for drug injectors, men who have sex with men, and sex workers.
Condom distribution programmes also work.
Yet millions of people continue to contract HIV every year because, as Ms. Pisani charges, governments and NGOs don't like spending money or time on the "wicked."
Thus, millions and millions of dollars go into prevention measures that actually do very little to prevent people from getting HIV.
Instead, a weird confluence of religious leaders – the Pope, various imams, preachers, etc. – and non-governmental organizations with one eye on the enormous sums being funneled into AIDS and the other eye on each other, deliberately undermine efforts to reach the marginalized.
This is a book that should be read by government leaders, particularly those of the Caribbean where HIV/AIDS prevention seems to have fallen off the radar but where the disease continues to spread through a potent mix of ignorance and complacency